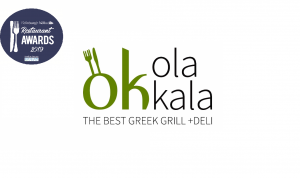 Ola Kala is open throughout the lockdown period. We are open 7 days a week for takeout or delivery. We delivery with our own drivers, through our website www.olakalauk.com/order/ We also collaborate with JustEat and Deliveroo.
Eat delicious Greek. Feed your body & soul! Let Food do you good! Drink a mouth-coating rakomelo & say out loud: Ola Kala!
Greeks, when asked "How things are", usually say "Ola Kala" – everything fine!! This expression is believed to be the parent of O.K. …that little word, that makes things easier and brighter! 🙂 At Ola Kala, Greek food is full of flavours! Prepared right at the moment of order! Choose between handmade pita wraps, refreshing, colourful salads, juicy veggie dishes, grilled souvlaki and roasted gyros! We pride ourselves on our excellent quality, friendly service and fun-loving atmosphere, at our Edinburgh West End restaurant.
Contact us
Orders: www.olakalauk.com/order/
Communication: [email protected] [email protected]
Phone: 075622 45167, 01316292820
Address: 202 Morrison str. EH3 8EA Edinburgh
Opening Hours:
Monday 12–10pm
Tuesday 12–10pm
Wednesday 12–10pm
Thursday 12–10pm
Friday 12–10:30pm
Saturday 12–10:30pm
Sunday 12–10pm