The Hellenic Community of Edinburgh was originally formed as a community group in 2014, before becoming an incorporated charitable organisation in 2018. It was set up by a group of Greeks and Cypriots, Edinburgh permanent residents, so as to fill in an obvious gap: Edinburgh was, at the time, perhaps the only main UK city – and Scottish capital – without a Hellenic Community. As such, the Hellenic minority in Edinburgh was missing any formal representation of its interests to the local and national authorities or otherwise.
Announcement
In this difficult period, due to Covid-19, the Greek community of Edinburgh wishes everyone to stay safe and look after one another.
Wanted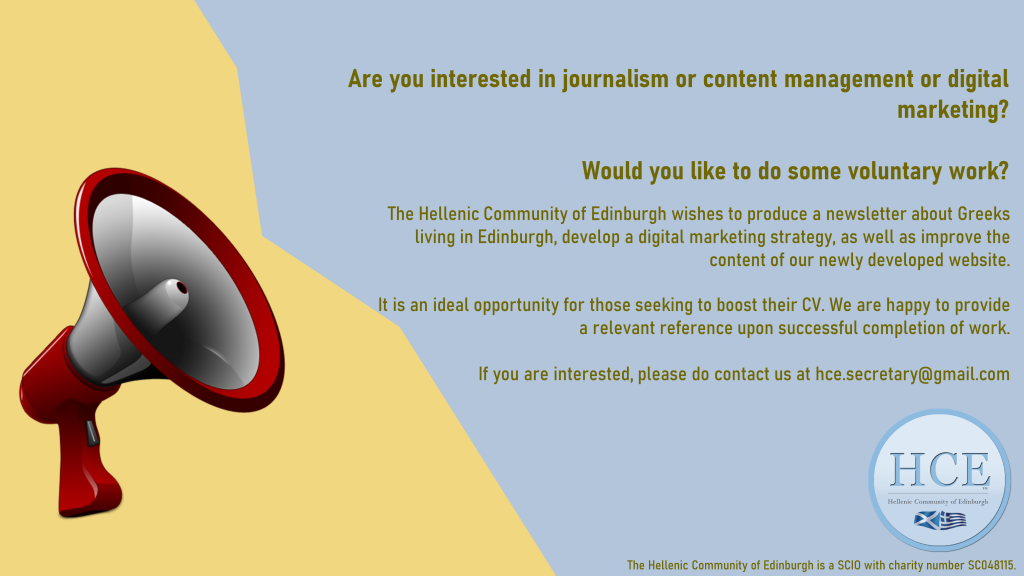 Donations and Sponsorships

No one has ever become poor by giving…

Anne Frank
We welcome donations via:
Bank transfer to the Bank of Scotland, Account Name: The Hellenic Community of Edinburgh, Sort Code: 80-22-60, Account no: 13020563
Paypal at Paypal account: [email protected] or press this button:
We are also very keen to discuss any sponsorship opportunities. For further details, please contact HCE's Secretary. Thank you very much!